Puzzle & Survival Efficient Character Development

Introducing the best quests for leveling and recommended characters for laps.
Efficient leveling method
Join the guild
You can create a "guild" or join an existing guild.
 If you are not thinking about paying, we recommend that you join the guild because each bonus you get from joining the guild will make it easier to get items and proceed more than you can alone. The key to creating it is whether people get together, so I don't think it's suitable for beginners, even if a few friends start it.
 Also, if you join a growing guild and do daily missions and main missions in order, you may have to do it for a while, and even if it is almost free of charge, you will be bored for about a month. There shouldn't be.
First and foremost is the daily mission
Depending on the points earned by completing daily missions, AP, stamina recovery, recruitment coins, barriers, etc. will be available.
You can't complete it at first, but if you go up the level, you can complete it without paying, so let's do our best with the goal of doing everything when you open it.
Starting at 9 o'clock on Monday, if you reach a maximum of 30,000 P for the entire guild, you will receive a considerable reward for the entire guild such as the fragments of ★ 4 heroes, so I definitely want to do my best.
 Considering that the maximum number of points that can be earned by one person is 190 points even if the charge is replenished, it is quite hard to achieve 4290 points (30000/7 days) a day.
(Some daily missions cannot be attended until a certain level is reached)
  Example: Can be used after clearing Ultimate Challenge Episode 12
World Ace Commander Growth schedule tailored to other events
 Almost every two weeks, there is an event called "World Ace Commander", and if you grow according to this schedule, bonus items will be included and growth can be accelerated, so growth items will be set for each day of the week according to this event. There is also a decision.
Be sure to participate in the Coliseum for free
 In the Coliseum's "Survival Battle", you will also play against the characters of other players, but if possible, you can buy additional tickets with diamond 50 (up to 4 ← 5 to 100 diamonds) for free 3 times a day. Where you want to save and play.
 You can get food such as 50,000 to 200,000, boost 15 minutes to 8 hours, and bourbon debris. (Bourbon is a hero who wants to be +5 ultimate ↓ See below) If possible, 3 times or more every day.

 * If your opponent is too strong, you may be able to win if you do it right after the reset on Monday! 
Whether you win or lose, the bonus content is the same, so you can apply for a match against a strong opponent and escape with haste (only items can be obtained).
 * I feel that the stronger the opponent, the better the item will come out.
Level up heroes / clear episodes
Minimal zombie extermination in the field
 There are two types of hero level up that consumes stamina: zombie subjugation and gather attack on zombie dens (jointly between players). You can get the serum you need either way, but I would like to join the guild and try the "Zombie Nest" with many item drops.
 As for the zombie subjugation, hero fragments will be given as a bonus for the first time
 (☆ 3 Elwin → ☆ 4 Omans → ☆ 5 Erie), so be sure to defeat them once even if you give priority to the nest in gathers. Except when you can't gather but have extra stamina, in other cases it's also related to guild events (offensive operations, etc.), so attacking the zombie den is the fastest way to get serum and materials efficiently.
Zombie list (~ LV20)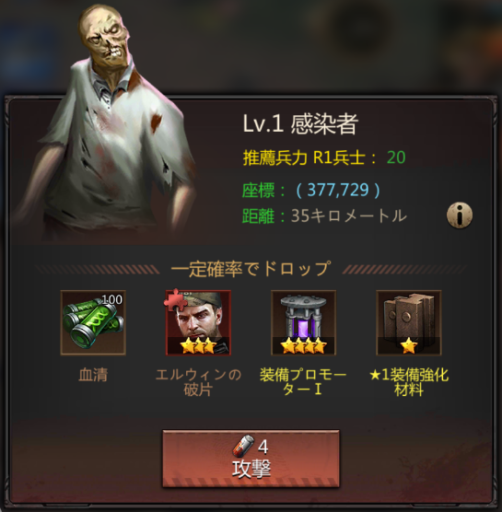 Zombies will see recommended troops under their name when they touch the target . Also, when selecting a soldier or hero, if it is difficult to defeat, it will be displayed that the strength is insufficient, and a warning will be issued to defeat a zombie with a slightly lower level, so how many zombies can be defeated? If you look at the screen, you can check it without any problem. Be careful of the deficit because there is a stage where it suddenly becomes stronger, probably because it is a rough level system.
Name

Consumption




stamina

Experience points earned

Obtained serum

Recommended troops

LV. 1




 infected person

Five




200

R1 Soldier




20

LV. 2




 infected person

Five




200

R1 Soldier




50

LV. 3




 infected person

Five




400

R1 Soldier




200

LV. 4




 infected person

Five




600

R1 Soldier




500

LV. 5




 infected person

Five




1,000

R1 Soldier




1,000

LV. 6




Zombie Nurse

Five




1,500

R1 Soldier




2,500

LV. 7




Zombie Nurse

Five




2,000

R1 Soldier




5,000

LV. 8




Zombie Nurse

Five




2,500

R2 soldier




6,000

LV. 9




Zombie Nurse

Five




3,300

R2 soldier




8,000

LV.10




Zombie Nurse

Ten




7,800

R2 Soldier




10,000

LV.11




Zombie Doctor

Ten




8,300

R3 Soldier




15,000

LV.12




Zombie Doctor

Ten




9,000

R3 Soldier




20,000

LV.13




Zombie Doctor

Ten




10,000

R3 Soldier




25,000

LV.14




Zombie Doctor

Ten




12,000

R4 Soldier




30,000

LV.15




Zombie Doctor

15




20,000

R4 Soldier




40,000

LV.16




Zombie Police

15




21,000

R4 Soldier




50,000

LV.17




Zombie Police

15




22,000

R4 soldier




60,000

LV.18




Zombie Police

15




23,000

R5 Soldier




70,000

LV.19




Zombie Police

15




24,000

R5 Soldier




80,000

LV.20




Zombie Police

20




33,000

R5 Soldier




90,000

LV.21




Zombie Hunt

20




34,000

R5 Soldier




100,000

LV.22




Zombie Hunt

20




35,000

R6 Soldier




110,000

LV.23




Zombie Hunt

20




36,000

R6 Soldier




120,000

LV.

Jul-01-2022